Chalmers University of Technology, Sweden is offering 50 75% Tuition fee reduction IPOET Scholarship for Masters Students of non-EU/EEA Nationality to study at the University 2021.
Chalmers University of Technology, Sweden will be offering around 50 IPOET scholarships, this scholarship is funded by the Swedish Council for Higher Education, to prospective fee-paying students. The scholarships are administered and awarded by Chalmers.
About Chalmers University of Technology
Chalmers University of Technology in Gothenburg conducts research and education in technology and natural sciences at a high international level. The university has 3100 employees and 10,000 students, and offers education in engineering, science, shipping and architecture. With scientific excellence as a basis, Chalmers promotes knowledge and technical solutions for a sustainable world. Through global commitment and entrepreneurship, we foster an innovative spirit, in close collaboration with wider society. The EU's biggest research initiative – the Graphene Flagship – is coo... read more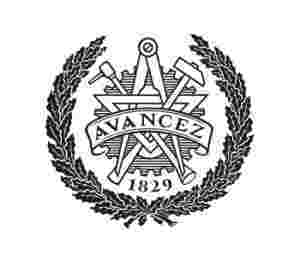 Subscribe for scholarship alert.
Be among the first to know whenever new Chalmers University of Technology scholarship is going on. Enter your email address and click the Subscribe button ↓
Chalmers IPOET Scholarships
Aim and Benefits of Chalmers IPOET Scholarships
A 75% reduction of the tuition fees (4 semesters/2 year programme)
Students who excel during their first year of studies may receive an increased reduction, which covers 85% of the tuition fees during the second and final year of studies
No funds are transferred to the scholarship laureates
Requirements for Chalmers IPOET Scholarships Qualification
Citizens from non-EU/EEA countries who are required to pay tuition fees for Swedish university education
1st year Master's Programme applicants
The selection is based on the applicants' relative academic excellence, which primarily includes weighted average grade but also home university's stature (including position on global ranking lists) and priority order of the application for Chalmers Master's programmes.
Checkout:
100 Study Abroad Frequently Asked Questions
Documents Required for Application
Certificates and diplomas from university studies
Transcripts of completed courses and grades
Proof of English language proficiency
Proof that you meet the specific entry requirements
Document your citizenship, for the determination of your fee status.
Curriculum Vitae (CV)
Project portfolio, Mandatory document for the programmes Architecture and Urban Design, Architecture and Planning Beyond Sustainability and Industrial Design Engineering. Follow the instructions at section 7 below.
Letter of (intent) motivation
Relevant work experience (optional)
Letters of recommendation (optional)
Certificate of cumulative grade point average (i.e. CGPA) (optional)
Application Deadline
January 15, 2021
How to Apply
Interested and qualified? Go to
Chalmers University of Technology on www.chalmers.se
to apply
How to apply for scholarships administered by Chalmers
For more details, visit Chaimers website