Yale Young Global Scholars (YYGS) has opened its application for next year's program, offering twelve academic sessions ranging from the humanities to the biological sciences. During the two-week program, participants will experience life as a university student by attending lectures and seminars, meeting peers from around the world, and accessing opportunities across Yale – ranging from admissions panels to conversations with Yale professors.
Yale Young Global Scholars provides scholarships to students with demonstrated financial need. The application for partial and full scholarships are included in the online program application and must be completed by the 2023 application deadline. It is recommended that parents or guardians of applicants help students complete the required financial information.
The high school enrichment program will offer residential and online sessions during June and July 2023.
We will award scholarship money based on need demonstrated in your completed application. Last year, approximately one third of program participants received full or partial scholarships based on financial need. Unfortunately, Yale Young Global Scholars financial assistance cannot cover travel expenses, and we cannot guarantee financial aid to all those who apply for it.
About Yale Young Global Scholars
Yale Young Global Scholars is an unparalleled academic and leadership program at Yale University, founded on the tenets of liberal arts, renowned for its diverse and inclusive community, and committed to increasing education access. Yale Young Global Scholars empowers the next generation of leaders by building a global community and designing interdisciplinary programs that foster intellectual curiosity, deepen understanding and inspire creative action across all borders.... read more... read more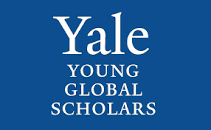 Subscribe for scholarship alert.
Be among the first to know whenever new Yale Young Global Scholars scholarship is going on. Enter your email address and click the Subscribe button ↓
Learn more about the program and apply now!
Aim and Benefits of Learn more about the program and apply now!
Thanks to generous donors, YYGS is able to offer a limited number of Scholarships, which are Need-Based Financial Aid packages that cover full-tuition ($6,300 USD) and travel costs.
In order to be considered for one of these scholarships (below), you MUST have completed the entire online YYGS Application, including the Need-Based Financial Aid portion..
As part of reviewing your financial aid request, YYGS staff will automatically review whether or not you meet any of our 2023 scholarships' eligibility requirements, and contact you when decisions are released by mid-March
Apply early to receive a discount on your application fee. If the fee poses a financial burden, you can submit a fee waiver to reduce your application fee to $0 USD. For more information visit the Application Deadlines page.
Requirements for Learn more about the program and apply now! Qualification
Age: Be at least 16 years old by July 16, 2023 (first day of Session III).
English Fluency: Be able to participate in a rigorous academic curriculum conducted in English.
Grade Level: Be a current high school sophomore or junior (or international equivalent).
Graduation Date: Be graduating in May/June 2024 or 2025 from the Northern Hemisphere, or in Nov./Dec. 2023 or 2024 from the Southern Hemisphere.
YYGS Participation: Be a first-time participant in YYGS. If you have participated in any YYGS session during a previous summer (e.g., 2022 or prior), then you are not eligible to participate during YYGS 2023.
Please note: If you previously applied to YYGS but were not offered admission or were unable attend AND you meet the eligibility criteria noted above, then you are encouraged to re-apply for YYGS 2023.
Checkout:
Scholarships for African students 2021/2022
Interview date, Process and Venue for Learn more about the program and apply now!
Session I Residential (June 18-June 30)
Session II Residential (July 2 – July 14)
Session III Online (July 16-July 28)
Application Deadline
November 22, 2022
How to Apply
For more details, visit Yale Young Global Scholars website.