Looking for the right way to apply for a scholarship? This guide will teach you everything you need to know on how to apply for a scholarship successfully and get taken.
Applying for a scholarship is no doubt the smartest decision you can make as a student planning to study at a postgraduate or undergraduate level at your home country or internationally.
Studying on scholarship is important and so is finding a good opportunity that is guaranteed to fund your studies for the duration of your course, at no extra cost. When conducting a scholarship search, there are certain essentials you will need as well as steps to follow.
Luckily for you, this guide will teach you everything you need to know on how to apply for a scholarship.
How To Apply For Scholarships 2020
In case you haven't been opportune to hear this, several study opportunities are  now  available for students like you to benefit from in the year 2020 and applications are already in full swing (and almost ending) for early birds.
Applying for a scholarship this year? Here's what you should know below
To apply for scholarships for the year 2020, you need to visit scholarship websites like ScholarshiptTab or ScholarshipAir so as to find the latest ongoing sponsorship opportunities that are relevant for this year. Checkout 20 Best Scholarship Websites For International Students
When you find such opportunities, take note of the university/college or organization that is offering the scholarship, the eligibility requirements (and if you meet them), then begin all the necessary applications steps to be awarded the scholarship.
You should know, that these financial sponsorships are there for you to take advantage of, whether you plan on pursuing an undergraduate, postgraduate, or research program in any study country of your choice.
How To Make Yourself An Ideal Scholarship Candidate
We have conveniently placed this part here, so that you can read it before you go ahead to apply, to know if you are an ideal scholarship candidate or not.
You see, scholarships are an important awards to be given to anyone, and if you want one you have to prove that you are an ideal candidate who is more deserving of the scholarship than all the other applicants.
Two questions. What do scholarship bodies want in an applicant? Who is an ideal scholarship candidate?
A Good Ambassador:
To be a scholarship recipient, you have to be a good ambassador. Awarding scholarship bodies hold their awardees in high regard and they need someone who can represent them during and after  the scholarship has ended.
Intelligent:
Scholarships are usually aimed at individuals who either possess strong academic prowess to succeed in the field of study, or are innovative enough to create businesses that can identify and resolve the biggest challenges faced by their community. Basically they need go-getters and achievers.
Ambitious And Passionate:
A financial aid is there to give you a leg up to actualise your dreams, so how badly do you want it? Ambitious  and passionate candidates are driven, and strive to better themselves and others around them. They have a vision they are dedicated to and would do anything to make this vision a reality.
Community Conscious And Dedicated:
 Most scholarships like the Obama Foundation scholarship usually go after young world leaders and social entrepreneurs who identify a problem in their community and are actively dedicated to solving those problems.
If you hit all these marks and believe that a scholarship opportunity is what you need to make that lifelong dream of yours a reality, then go ahead and read our next step on how to apply for a scholarship to see how you can win one.
How To Apply For Scholarships
The process of applying for a scholarship is an easy one, yet one misstep, can ruin the entire process for you, thereby disqualifying you.
When applying for scholarships, you don't need to hurriedly fill in your details (we get it, you're on a deadline) or you could make mistakes you may not be able to correct.
Follow our 6 step guide on how to apply for a scholarship:
1. Identify A Suitable Scholarship
The first step to applying for any scholarship is to making sure that you are qualified to receive it, if not your application will not be considered.
To identify a suitable scholarship for yourself, you need to check the eligibility criteria boxes provided below, which is also the demographic most scholarships are aimed at:
You want to major in a particular field of study.

You wish to undergo a study in an undergraduate, postgraduate, or research level.

You are from a select country which is listed as eligible to receive the scholarship.

Demonstrated leadership, innovative, entrepreneurial skills within your community or high academic achievement in your field of study.

Is interested in studying overseas.

Is in need of full or partial academic funding.
Checked all the boxes? If you're convinced that you qualify for a scholarship, then proceed to find one.
You can find a scholarship by either:
Using a reputable scholarship website like ScholarshipAir to find opportunities in various sectors and countries tailored for you.

Talk to your guidance counsellor, educational or career advisor, enquire from friends and family or look for opportunities in newspapers.

Visit the website of universities you want to apply in, and search for scholarship they are offering.
2. Gather The Necessary Documents
The second step you need to take towards a successful scholarship application is to submit the required documents to the awarding body, either online or offline, as stated per directives.
Common documents that may be requested are:
Previous exam results

Degree or high school certificate

Birth certificate or passport

Personal statement

Transcripts
Sometimes gathering the right documents can leave you a bit disorganized especially if you don't have all those things in one place.
 What you can do is to take down all that is needed, tick the ones you already have and start making fast moves to acquire the rest before the deadline. Which is exactly why you need to start applying early.
3. Get Your Documents Attested
Once you have successfully gathered all the documents you will need for applying for the scholarship, the next thing to do would be for you to get them attested.
Document attestation is necessary to show that the document in question is authentic or original.
To get your documents certified or attested, you can take them to :
Teachers

Police officers

A ministry

Medical personnel

Lawyers
While going to get your documents certified, take both the photocopies and originals with you for reference.
4. Contact Referees
While applying for a scholarship, you will need someone who knows you in an academic, personal or professional level who can stand in as a referee for you.
This referee will send the scholarship body a letter stating how they know you,  your good qualities, and why they think you would be a good fit for that scholarship.
It is important that inform your referee on time about the scholarship you are applying for so that they can provide the reference letter once you request it.
5. Fill In Your Application
Now that you have gathered and attested all the documents needed for you to start applying for a scholarship, you can start filling in your application.
Remember that a scholarship is highly competitive, and since you are in the race with thousands of prospective awardees you have to make sure that your application stands out.
How do you do that?
Read everything there is to know about the organisation you are applying to, including their goals, mission, vision and what they intend to achieve with the scholarship. Find out a distinct quality they are looking for in their ideal candidate.

Once you know these things, tailor your application and personal statement as well, to meet their exact specifications.

Fill in your form carefully and make sure you don't leave any questions unanswered, unless it is optional.

Attach your documents in the exact order they have been requested for and make sure you don't omit anyone.

Vet your application or get someone experienced to do it for you. If possible, get someone who has successfully applied and received a scholarship to do it for you.
6. Submit Your Application
Submitting your application can be either done online or offline via post.
Whatever way the scholarship body has instructed you to submit your documents is the way you should follow. Don't let anyone tell you otherwise or mislead you.
If you are submitting your application via email or by post, get the exact email and postal address before sending it to them. Take note of it for future reference.
Make sure all your documents are attached before you submit. Keep in mind that some scholarships can take as long as 6 months or more to announce the winners and losers, so if you omitted any documents you have to also wait that long just to get your hopes dashed.
Common Mistakes Applicants Make While Applying For Scholarships
Dear applicant, while applying for scholarships, do well to avoid these common mistakes that will definitely cost you the opportunity:
Lying on your application about your credentials and country of birth.

Submitting fake certificates.

Attempting to manipulate the decision of the scholarship body by acting as a referee for yourself.

Lying about your true financial status.

Submitting an incomplete application.
How To Write Application For Scholarship
The way you write your scholarship application determines its success or failure. Even if you are qualified for one in terms of academics and meeting the eligibility criteria, a scholarship isn't guaranteed to you, unless you make a compelling application to the body convincing them beyond doubt that you deserve the scholarship.
Below are different ways you can write a scholarship application.
Different Method Of Scholarship Applications:
As a scholarship hopeful, you can write a scholarship application following any of these methods / medium:
Online Form
An online form is a questionnaire you need to fill if you wish to apply for scholarships online through an applicants' portal owned and operated by the awarding body.
This form is very important because it is how the scholarship body can collect all your personal details and log it into their system for future reference.
Through an online form, you can take important application steps like submitting your documents and indicating the reason for your interest in the scholarship. Without an online form you won't be considered as a serious candidate.
This is what a typical online form will look (this form is a sample from common wealth scholarship application)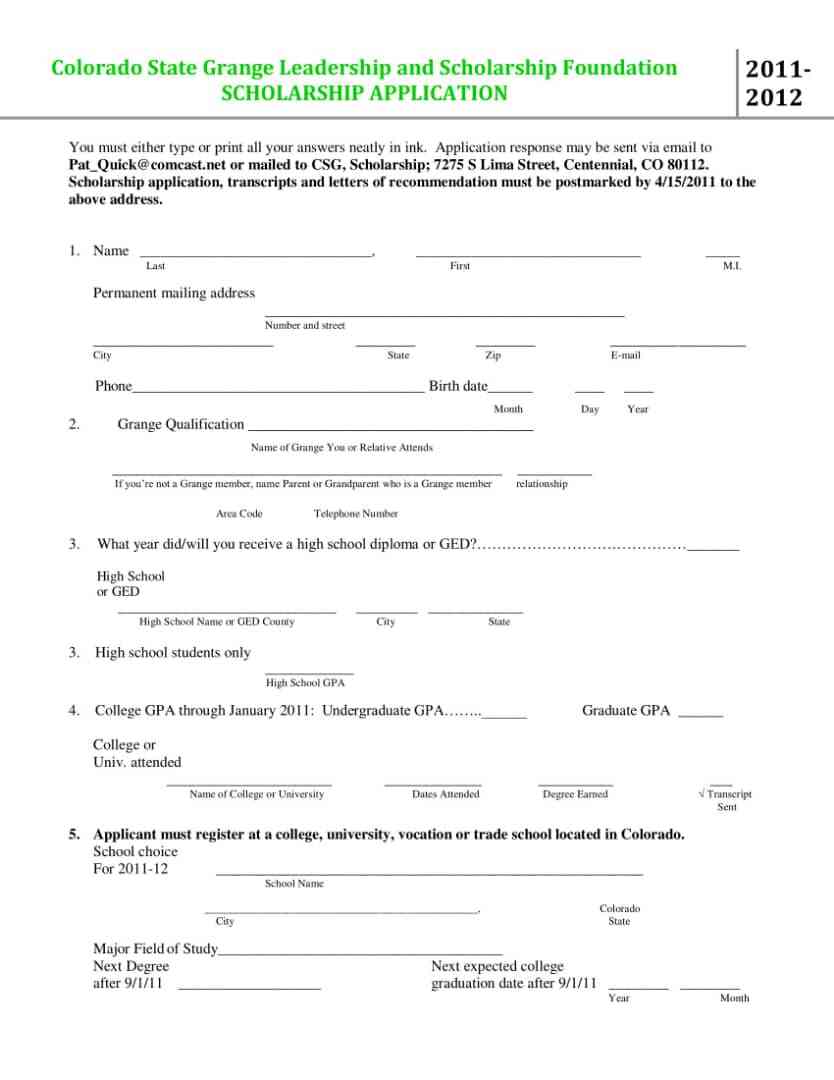 Another thing to note is that an online form is affordable, and the best option for you to apply for scholarships online for free as you can easily submit it through an applicants' portal or via a secure email address provided by the scholarship board.
Offline Form
Another method for making a scholarship application is using an offline form. Offline forms are an alternative to online forms and is usually provided in a downloadable format by the scholarship awarding body.
This type of form is what you can use when you want to make an application for scholarship in school. Most offline forms since they are usually unsupervised, contain exhaustive directions on how to fill them,  a letter from the awarding body, questions to determine your eligibility and interest in the scholarship, a space where you can write your essay of intent, and a scholarship checklist for documents to attach which will be submit
Offline forms are usually sent via email or post as directed.
Below is a sample of an offline form.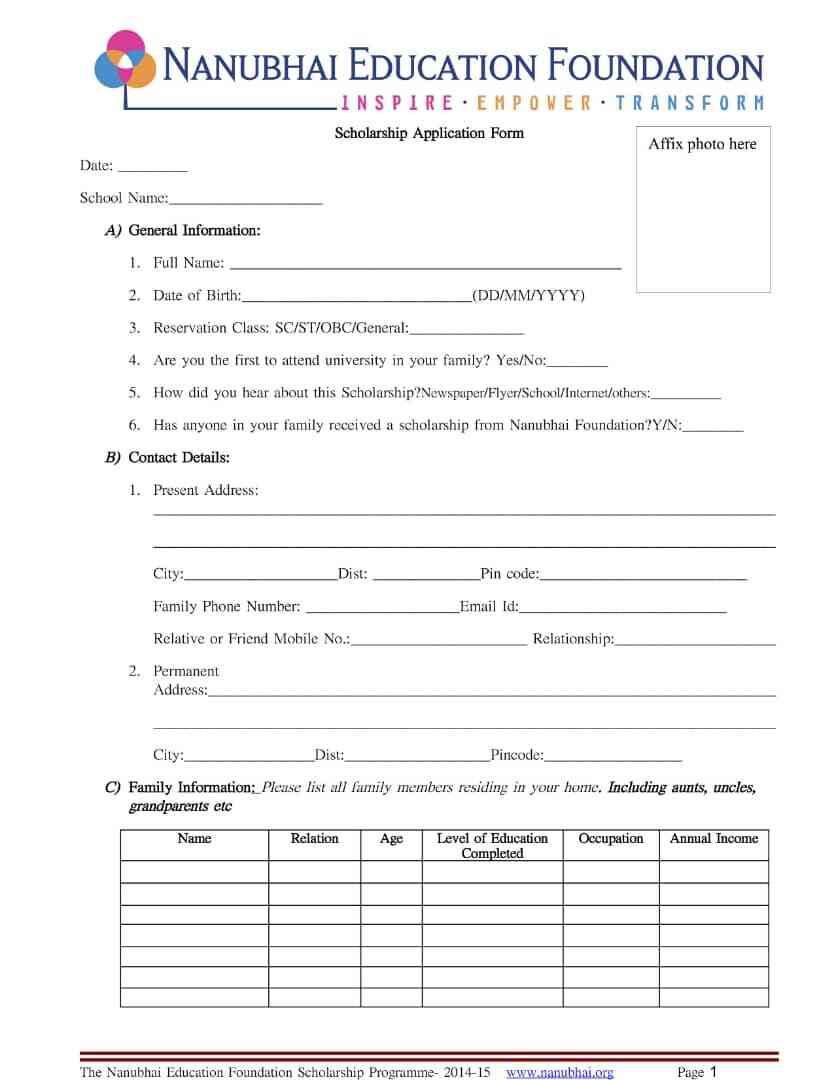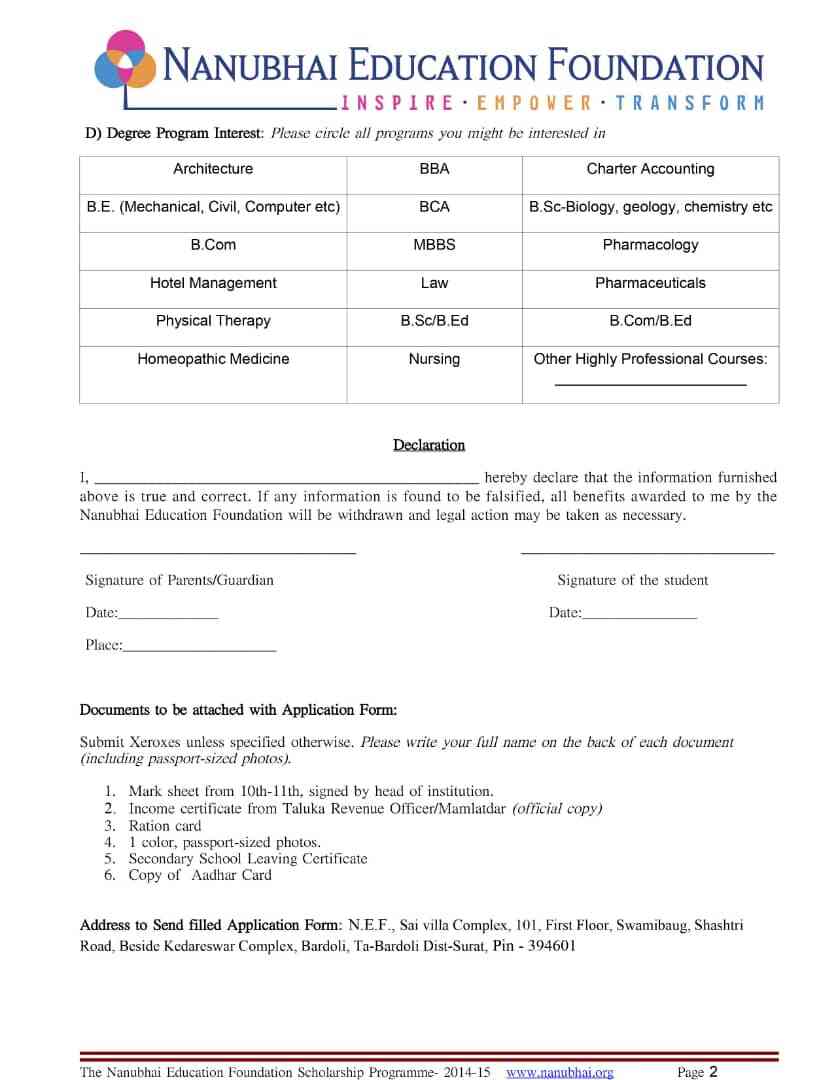 Essay Writing
Writing an essay for a scholarship is your chance to impress and convince the awarding body that you are more deserving of a scholarship than any other applicant.
Your essay should be compelling, honest, and well-written. You can read our guide on How To Write A Scholarship Essay - Scholarship Essay Examples.
Offline Letter
An offline letter is a letter you directly to the person in charge of a scholarship , usually the principal of a college where you are enrolled as a student, requesting award for a scholarship which you are eligible for.
Below is a sample of an offline line scholarship application letter.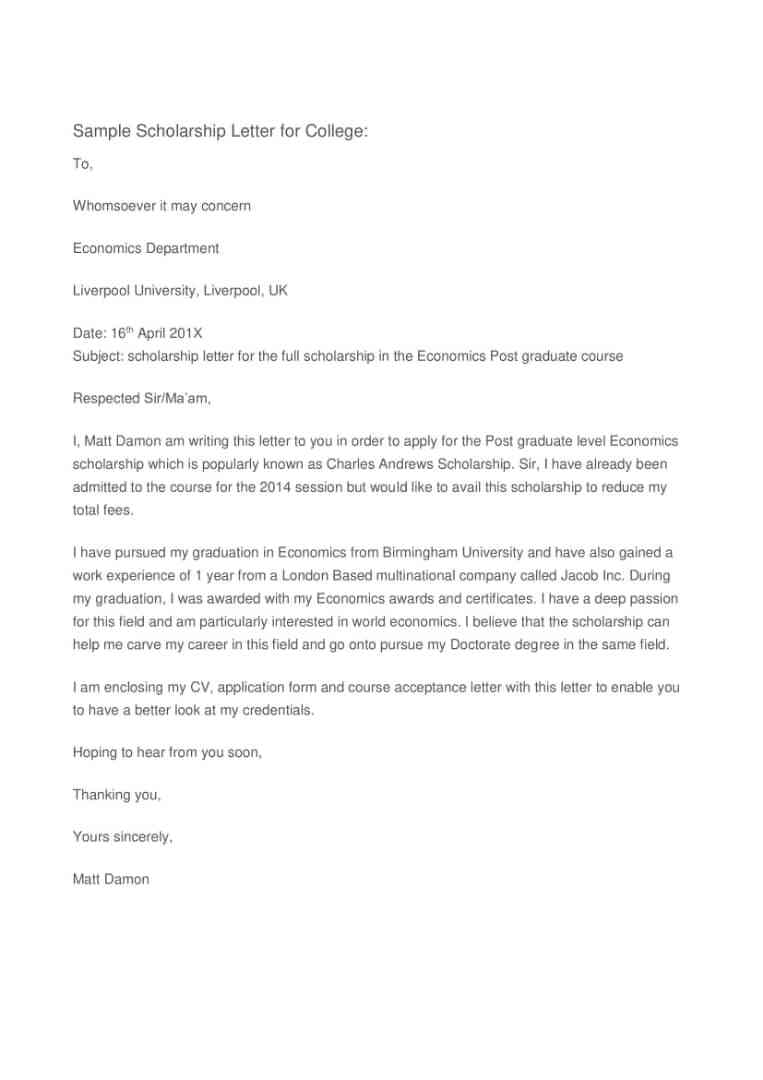 Scholarship Application Template
Throughout this guide we have continuously hammered on the importance of a making a good scholarship application and giving you step by step tips on what you should do to ensure the success of an application.
For this segment we will show you a scholarship application template that you can use a reference for yours:
University  Scholarship Application Template
Below is an example of how to fill out a basic application form for a university scholarship:
 A : General Information ( Enter Personal Identification Details)
Applicant's First Name:  Miriam                                    Last Name Moses
Email Address [email protected]
Home Address  No 17B Flower Garden Estate, Bumblebee Street
City  Fast City                State  Brown                               Zip/Postal Code      133345
Country  Algeria                                           Phone Number +234.................
School Address (Optional)   No 23 Very New School Road
City  School City                State  Scholar State                               Zip/Postal Code      233334
Country  India                                           Phone Number +91.................
Country of Citizenship Algeria
Section A: Explanation
Question 1: First Name and Last Name. Some forms can ask for your middle name as well how it appears on your passport.
Question 2: your official email address (put the correct email address so that the school can easily contact you)
Question 3: the address of the place you are currently residing
Question 4: City, state, postal code
Question 5: Country you are currently residing at the time of the application
Question 6: The address of the school you will be attending if you know it
Question 7: School's location and postal code
Question 8: Country where you will be attending school and school phone number
Question 9: The country you are a citizen of
B: Education Information (Enter Your Academic Details)
School Applicant will attend next fall  School of Wisdom University
Department and Major  Humanities, Journalism
Department Address  13th Floor, University Main Campus
City  School City                State  Scholar State                               Zip/Postal Code      233334
Country  India
Check the class you will be in next semester  Junior                      Senior                 
Expected Graduation Date    April 23rd 2021
Degree Expected  Bachelor Of Arts
Grade Point Average Last Semester           7.62
Cumulative Grade Point Average                  8.05
Section B: Explanation
Question 1: Fill in the school you intend to attend in order to redeem the scholarship award
Question 2: The university department you want to be a student of and the subject you want to study
Question 3: Where the department is located in the school
Question 4: The school's location and postal code
Question 5: Country where the school is located
Question 6:  will you be joining a junior or senior class
Question 7: When will the course end? If it's a three years course, put the year of the last semester
Question 8: Which degree you will be graduating with a BA or MA?
Question 9: What was your GPA you graduated at your last school
Question 10: Cumulative GPA for the last semester you were in
Note: Scholarship application forms differ, but these are the common information you may be required to enter in your application. Do well to fill in the form as stated by the scholarship organization.
List Of Top Scholarships For International Students 2020
As a parting gift, below is a list of top scholarships for international students you can apply for right now on our  site, should you meet the stated requirements:
Applying for a scholarship is a bold decision to make. It means that you see yourself as deserving enough to receive the opportunity to develop yourself and your society. Go ahead and apply for as many scholarships as you want to as long as you qualify for them. All the best!