ASF scholarships are awarded to both Dutch students and international students based on academic merit and financial need. The scholarships include both full and partial scholarships and are given for three years of study.
AUC Scholarship Fund Mission
Stichting AUC Scholarship Fund (ASF) supports excellence and diversity in the AUC student body by facilitating access to the AUC programme for talented and underrepresented students. The ASF scholarship recipients and Talent Fellows enrich AUC's community by diversifying the student body and bringing a broad depth of knowledge, experiences, and thoughts. In a multicultural city such as Amsterdam, it is essential that outstanding underrepresented students are not only invited to join AUC's selective honours programme, but are granted the means to participate. Through the fellowships and scholarships offered by the ASF, talented students are able to work toward academic success and realise their enormous potential. Donations from a variety of sponsors and stakeholders support the ASF, and together with AUC, the ASF empowers the next generation of changemakers and international leaders. The AUC Scholarship Fund is an independent, separate foundation (stichting) run by the ASF Board.
About Amsterdam University College (AUC)
Amsterdam University College (AUC) offers a liberal arts and sciences programme leading to a joint Bachelor's (Honours) degree issued by the University of Amsterdam (UvA) and Vrije Universiteit (VU) Amsterdam. AUC is based on the American liberal arts and sciences model, with students living and studying together on an international campus located at Amsterdam Science Park. The programme is taught entirely in English, is small-scale and selective, and admits a maximum of 300 students each year based on their academic performance and motivation.... read more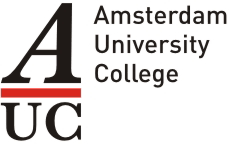 Subscribe for scholarship alert.
Be among the first to know whenever new Amsterdam University College (AUC) scholarship is going on. Enter your email address and click the Subscribe button ↓
Amsterdam University College ASF Scholarship
Aim and Benefits of Amsterdam University College ASF Scholarship
The AUC Scholarship Fund offers two levels of full ASF Scholarship:
EU/EEA students: EUR 5550 per year
Non-EU/EEA students: EUR 16550 per year
"EU/EEA students" includes Dutch students, and refers to students who are eligible to pay the statutory tuition fee for AUC (wettelijk collegegeld). Partial scholarships may also be awarded (these are usually 50% of the above amounts). To compare scholarship levels with the costs of studying at AUC, please follow the link to fees and costs
Requirements for Amsterdam University College ASF Scholarship Qualification
The ASF Selection Committee, consisting of representatives of the ASF sponsors and an independent chair, considers all the applications and recommends which students should receive a scholarship to the ASF Board.
For your scholarship application to be considered by the ASF Selection Committee, you must meet the following requirements:
You must have also applied for a place at AUC. Admission to AUC is a separate process. For more information on applications and admissions, see the links in the left-hand menu. Only AUC students can receive an ASF scholarship.
Your family income has to be below the threshold (see below).
ASF Scholarships are awarded based on merit and financial need. The ASF Selection Committee selects the applicants to be recommended for a scholarship using the following criteria:
Excellent school results. These are considered to be an indicator of your academic merit. Please note that the ASF Selection Committee will not see your AUC admission application and they will only receive information on your average secondary school grade (GPA). If you want to communicate anything more to the Committee about your school results and academic ability, make sure to include it in your letter of motivation. This space can also be used to explain why you may not have high grades at the moment, but still believe you can perform well at AUC.
Strong motivation to study liberal arts and sciences at AUC. The ASF Selection Committee will be looking for this in your letter of motivation.
The ASF Selection Committee is also interested in your extracurricular accomplishments and activities relevant for AUC. Not only your individual accomplishments but also your contributions to the community or society, as well as your (potential) leadership profile and skills. Make sure to write about these in your letter of motivation.
First-generation university students and students from non-Western backgrounds are especially encouraged to apply.
Financial need. In other words, explain in your letter of motivation why it is important that you receive a scholarship.
Family income threshold
If your family income is above a certain amount, you will not be eligible for an ASF scholarship. You will need to send financial documents about your family income with your scholarship application. Only the total amount of your family income will be revealed to the Selection Committee members, and only to them. They will not see your financial documents, these will be used strictly internally and only to verify the information you have provided.
If you are Dutch and/or eligible for Dutch student finance (studiefinancering) then your family income is measured by your eligibility for the additional grant (aanvullende beurs) from DUO. In order to be eligible for an ASF scholarship, you must receive or be eligible for the maximum additional grant (maximum aanvullende beurs).
If you are not Dutch and not eligible for Dutch student finance (studiefinancering), then you need to calculate the total annual income before tax deductions of your parents/guardians, including non-taxable income such as benefits or pensions. This total needs to be below EUR 54,000 for you to be eligible for an ASF scholarship.
Checkout:
Scholarships for African students 2021/2022
Application Deadline
April 1, 2023
How to Apply
Interested and qualified? Go to
Amsterdam University College (AUC) on www.auc.nl
to apply
The application form for ASF Scholarships is now open for new students starting their studies at AUC in September 2023. Prospective students should be in the process of applying or have already submitted an application for admission to AUC when applying for an ASF Scholarship.
You should apply for a scholarship before the ASF Scholarship deadline of 1 April 2023 (for scholarships starting in September 2023) even if you are still waiting to hear a decision on admission from the Admissions Committee.
For more details visit: AUC website.