This scholarship recognises and supports top-achieving international students commencing an undergraduate degree programme at the University of Canterbury after studying for a university entrance-level qualification overseas.
About University Of Canterbury
Established in 1873 Canterbury College, as it was then known, was only the second university in Aotearoa New Zealand. It was set up on the Oxbridge model with one major difference: women students were admitted from the start. An early graduate, Helen Connon, became the first woman in the then British Empire to win honours. Housed in graceful stone buildings on a central city block, the College was dependent on rents from high country farms with which it had been endowed by the Canterbury Provincial Council. Ernest Rutherford, Canterbury's most distinguished graduate, studied at the ... read more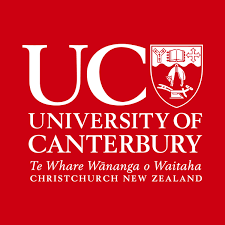 Subscribe for scholarship alert.
Be among the first to know whenever new University Of Canterbury scholarship is going on. Enter your email address and click the Subscribe button ↓
University of Canterbury Undergraduate Scholarships
Aim and Benefits of University of Canterbury Undergraduate Scholarships
Successfull students will be awarded $15,000 for 1 year
Requirements for University of Canterbury Undergraduate Scholarships Qualification
Recipients must be full-fee-paying international students. Applicants may not be:
a. citizens of New Zealand or Australia;
b. Permanent Residents of Australia; or
c. holders of New Zealand residence class visas.
Applicants must be completing, or have completed on or after 1 January of the year before the year of application, through an overseas institution or at the UC International College (UCIC), a university entrance-level qualification that permits entry into a University of Canterbury undergraduate degree programme. Those studying at secondary level in New Zealand are not eligible. Applicants, by the closing date for the round in which they are applying (15 April or 31 October), must have applied for admission to the University.
Checkout:
100 Study Abroad Frequently Asked Questions
Interview date, Process and Venue for University of Canterbury Undergraduate Scholarships
Seven scholarships are available annually.
The scholarship is awarded by the Council of the University on the recommendation of a selection committee comprising:
a. the Vice-Chancellor (or nominee); and
b. the Executive Director, Student Services and Communication (or nominee); and
c. another member of the University staff.
Application Deadline
October 31, 2020
How to Apply
Interested and qualified? Go to
University Of Canterbury on scholarshipscanterbury.communityforce.com
to apply
You may apply through this webpage approximately 8 weeks before applications close. If it's possible to apply on-line for this scholarship there will be a link above to the on-line system. If the link is not provided, please download and complete the application form located below.
However, if the scholarship is managed by Universities NZ or another department of the University an External Website link will appear below and application instructions will be available through that link.
For more details, visit University of Canterbury website