UMAPS welcome direct applications from faculty members of colleges or universities from Angola, Botswana, Ethiopia, Ghana, Kenya, Malawi, Mozambique, Nigeria, Rwanda, South Africa, and Uganda.
Applicants from other countries in Africa cannot apply directly to UMAPS but need to be nominated by a University of Michigan faculty member with whom they already have an established relationship.
Unfortunately, ASC is not able to help prospective applicants connect to U-M faculty, nor do we recommend reaching out to them directly.
The UMAPS program hosts two cohorts per year—August through December, and January through May—with *one* application round for both cohorts. Applicants will have the opportunity to indicate their preference for a particular cohort during the application process, but placement in a particular cohort (upon acceptance in the program) is not guaranteed.
About University of Michigan
The University of Michigan is a public research university in Ann Arbor, Michigan. Founded in 1817 in Detroit, as the Catholepistemiad, or the University of Michigania, 20 years before the territory became a state, the university is Michigan's oldest.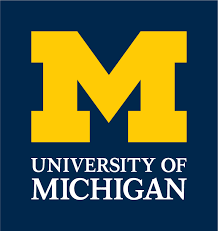 Subscribe for scholarship alert.
Be among the first to know whenever new University of Michigan scholarship is going on. Enter your email address and click the Subscribe button ↓
African Presidential Scholars Program
Aim and Benefits of African Presidential Scholars Program
Those admitted to the UMAPS Program will receive:
Five months of residency at the University of Michigan in Ann Arbor, Michigan, paired with a faculty collaborator with full access to the university's resources
Round-trip airfare from their home country to Ann Arbor, Michigan
Free housing (private room & bath in a suite setting), medical insurance, a research allowance, and a modest stipend to cover living (Important note: The UMAPS program is unable to accommodate spouses and/or dependents)
Office/Laboratory space
Opportunity to present research to the U-M community
Requirements for African Presidential Scholars Program Qualification
Previous recipients of the UMAPS fellowship are not eligible to apply. Preference will be given to applicants without extensive international experience outside the continent.
All applicants must:
Be an early career faculty member who has taught in the higher education system for less than ten years, and who is presently teaching in a college or university in Africa

Be employed in an ongoing position at a university or college in Africa

Be able to demonstrate support from a home institution with a letter of recommendation from the head of department, dean, or vice chancellor

Be able to remain in residence for five months
If you have any questions about eligibility in your specific case, please contact us at [email protected]du
Checkout:
Scholarships for African students 2021/2022
Interview date, Process and Venue for African Presidential Scholars Program
Selection Criteria
Review and selection will be made by a multidisciplinary faculty committee at the University of Michigan and will be based on the following:
Academic quality of the candidate and of the proposed program of scholarship
Academic fit of the candidate with others selected in the cycle and with the areas of interest described in the Scholarly Program section below – it is our hope to facilitate scholarly networks
Equitable representations of scholars aligned with ASC's three disciplinary initiatives
Support of the candidate's home institution
Priority will be given to candidates from disadvantaged backgrounds. Promotion of gender equity in the current class of scholars and in the African academy will also be prioritized. Preference will be given to candidates who do not have significant international experience outside the continent.
Application Deadline
October 15, 2022
How to Apply
Interested and qualified? Go to
University of Michigan on webapps.lsa.umich.edu
to apply
All applicants must:
Complete the online application form » (IN THIS APPLICATION CYCLE, this link can only be used by applicants from the following countries: Angola, Botswana, Ethiopia, Ghana, Kenya, Malawi, Mozambique, Nigeria, Rwanda, South Africa, and Uganda)

Upload a curriculum vitae using the online application

Upload a scholarly program/research proposal (not to exceed five pages). Applications from a wide range of disciplines and schools are welcome; applications that align with the center's disciplinary initiatives—AHHI, ASRI, and STEM-Africa—are encouraged
Provide complete name and contact information of the department head, dean, or vice chancellor at the applicant's home institution who will be writing their letter of support
For applicants from outside Angola, Botswana, Ethiopia, Ghana, Kenya, Malawi, Mozambique, Nigeria, Rwanda, South Africa, or Uganda, nomination is required and needs to be completed by a U-M faculty member familiar with the work of the prospective applicant. The nominating faculty must:
Complete the online nomination form (for University of Michigan faculty only and access requires U-M login)

Submit /upload a letter of endorsement that indicates their willingness to serve as a mentor during the length of the residency, commit to meet regularly, and if possible provide an office space for the prospective participant
For more details,visit UM website