University of the New South Wales is currently inviting students to apply for UNSW Arts, Architecture & Design Global Academic Scholarship.
This scholarship award is available to high school leavers, international students who wish to enroll in an undergraduate program at the University.
About University of New South Wales (UNSW)
UNSW Sydney is a powerhouse of cutting-edge research, teaching and innovation. We are one of the top 100 universities in the world, with more than 59,000 students and a 7,000-strong research community. Located in Sydney, Australia�s largest city, the University was established in 1949 with a unique focus on the scientific, technological and professional disciplines. UNSW is committed to making a difference by focusing on areas critical to the future. Pioneering research and sustained innovation are addressing some of the most important issues of today � from climate change a... read more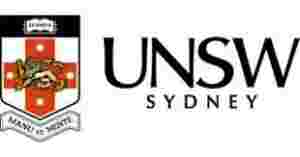 Subscribe for scholarship alert.
Be among the first to know whenever new University of New South Wales (UNSW) scholarship is going on. Enter your email address and click the Subscribe button ↓
UNSW Academic Scholarship
Aim and Benefits of UNSW Academic Scholarship
$5,000pa paid as a stipend for minimum duration of program
UNSW Academic Scholarship Courses
Requirements for UNSW Academic Scholarship Qualification
To be eligible, applicants must meet all of the following criteria:
Be an International Student, and not a permanent resident of Australia; and
Must be completing a UNSW Global Foundation Studies program (in Sydney or off-shore) and;
Must have applied and received an offer of admission* into an eligible program for Term 1 2021
* Offers of admission must be one of the following:

Undergraduate Offer (unconditional) in the Faculty of Arts, Architecture & Design
*Open to students commencing their studies at UNSW in Term 1 2021.
* Eligible pathway programs include UNSW Global Foundation Program.
*This scholarship cannot be deferred.
Selection
No separate scholarship application is required.
Students completing a UNSW Global Foundation Studies program will automatically be considered for this Award.
Each applicant will be assessed based on their UNSW Admissions Application. You will be assessed on your ability to demonstrate:
Checkout:
100 Study Abroad Frequently Asked Questions
Application Deadline
November 30, 2020
How to Apply
Interested and qualified? Go to
University of New South Wales (UNSW) on www.scholarships.unsw.edu.au
to apply
Interested and eligible candidates for this scholarship, are required to secure an offer in the undergraduate programmes. Thereafter, students can proceed to apply for the award through online application.
For more details, visit UNSW website.