The scholarships are for studies in the School of Architecture and Planning, Wits University, South Africa and summer/spring school in Berlin, Germany.
The bilateral Wits-TUB Urban Lab programme supported by the Federal Ministry for Economic
Cooperation and Development (BMZ) and German Academic Exchange Service (DAAD) seeks to improve graduate education in urban fields across sub-Saharan Africa. Both lead partners, the Habitat Unit at the School of Architecture of the Technische Universität Berlin, and the School of Architecture and Planning at University of the Witwatersrand offer a new urban-oriented graduate and postgraduate training and capacity building programme that would effectively address the challenges and needs outlined below .
The programme includes bilateral exchange activities, workshops and conferences implemented through the Wits-TUB Urban Lab and will focus on four innovation areas that address SDG implementation in
urban areas:
Politics and policy of the urban
Understanding complex urban systems
Managing change processes
Coproducing knowledge between theory and practice (Wits-TUB Urban Studio)
About Wits University – TU Berlin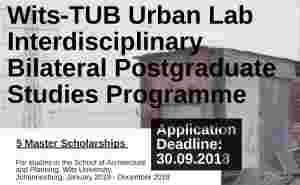 Subscribe for scholarship alert.
Be among the first to know whenever new Wits University – TU Berlin scholarship is going on. Enter your email address and click the Subscribe button ↓
Wits University – TU Berlin Bilateral Masters Scholarships
Aim and Benefits of Wits University – TU Berlin Bilateral Masters Scholarships
Successful candidates will be expected to sign a contract stipulating the conditions of the scholarship. The scholarship includes:
Full tuition fee
Monthly stipend (living expenses including: subsistence expences, accommodation, other costs)
Travel from home country/place of origin is covered.
Costs of Summer/Spring School in Berlin
The scholarship recipients will benefit from guest lectures, joint supervision scheme and a summer school at Wits University.
Requirements for Wits University – TU Berlin Bilateral Masters Scholarships Qualification
Scholarships are open to :
This call is open for applicants who are citizens of sub-Saharan African countries other than South Africa.
Applicants must possess the requisite qualifications for admission into the respective master programme
Award of the scholarships is by merit and to some extent distribution across the continent and gender balance.
There is no age limit applying to the scholarships for study purposes. However, at the time of the application, no more than 6 years should have passed since an applicant graduated from his/her previous bachelor or master studies.
All scholarship applicants must have applied for admission to the relevant degree (as per above list) at Wits University and be in possession of a 'person number' which is issued by Wits University upon application for admission into a degree.
Fields of Study: The masters scholarships apply to the following 1 year full time degrees at Wits University in Johannesburg, supported by a bilateral programme with TU Berlin:
MSc Development Planning (MSc DP)
Master of Urban Studies in the field of Sustainable Energy Efficient Cities – MUS (SEEC)
Master of Urban Studies in the field of Housing and Human Settlements – MUS (HHS)
Master of Urban Studies in the field of Urban Politics and Governance (MUS – UPG)
Master of Urban Studies in the field of Urban Management – MUS (UM)
Up to 7 scholarships out of 11 are earmarked for MUS (Urban Management).
Please note that once completed, the degree certificates are issued by Wits University. They are not joint degrees as such.
Application Deadline
July 31, 2020
How to Apply
Interested and qualified? Go to
Wits University – TU Berlin on www.wits.ac.za
to apply
Every applicant has to fill in the first basic Application form before they can access the full form.
For more detaills, visit the website.