Climate Justice Squad enables young climate activists to grow their impact and collaborate on a global scale, including:
Cutting-edge training and mentoring
Support to develop new projects or grow existing ones (a campaign, an organization, a mobilization etc.)
The opportunity and financial support to travel to some key climate and movement events.
About Climate Justice Camp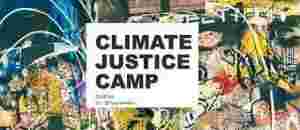 Subscribe for scholarship alert.
Be among the first to know whenever new Climate Justice Camp scholarship is going on. Enter your email address and click the Subscribe button ↓
Climate Justice Squad Young Climate Fellowship
Aim and Benefits of Climate Justice Squad Young Climate Fellowship
The idea for this fellowship was developed by the movement for the movement. The fellowship is fiscally hosted by TogetherforFuture and implemented in partnership with 350.org.
Benefits:
Everybody in the fellowship will receive 500USD per month. This support is meant to take burden from you as an activist to work on the side and enable focussing on campaigning and organizing. However, tax regulation is vastly different across the globe and in some countries you might need to pay taxes on these stipends/payments.
Requirements for Climate Justice Squad Young Climate Fellowship Qualification
Who is the fellowship for?
Everybody between 18-30 years who is part of an organization, movement or grassroots group.
Activists from the Global South and marginalized groups will be prioritized.
This fellowship is meant to serve the climate movement and strengthen our collective power. In the application form you need to provide details and a contact of your organization. Global South activists and activists from marginalized groups will be prioritized.
Strategize, organize, fight the climate fight. The fellowship is meant to support you and your kick-a** activism. Fellows are expected to take part in joint calls and training, collaborate with other fellows on joint projects and join in-person meetings as fitting.
Checkout:
Scholarships for African students 2021/2022
Application Deadline
June 11, 2023
How to Apply
Interested and qualified? Go to
Climate Justice Camp on docs.google.com
to apply
The first step is to fill in the application form . See who can apply (question 1). Among all applicants, the most promising will move forward and will be interviewed in June 2023 – the evaluation of the questionnaire will be handled by a diverse group of grassroots organizers.
The deadline for applications is June 11, 2023.
For more details visit: Climate Justice Squad website.