Fuqua's PhD Program in Business Administration (CIP 52.1399, STEM eligible) prepares candidates for research and teaching careers at leading educational institutions and for careers where advanced research and analytical capabilities are needed.
At Fuqua, you'll develop close working relationships with leading scholars in your field in a stimulating and collaborative learning environment. We encourage strong collaborations between students and faculty, both within your academic area and across different areas, in order to foster the groundbreaking interdisciplinary research we're known for.
About Duke University's Fuqua School of Business
Duke University's Fuqua School of Business attracts and nurtures a new kind of leader who has the power to bring out the strength in others and move teams forward toward a common purpose. Our community is made up of students and faculty from around the world who thrive in an environment with differing viewpoints. We bring them together to inform a leadership style that inspires entire organizations to do better while doing what's best.... read more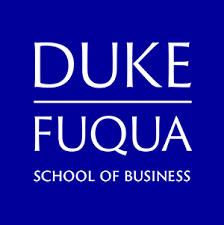 Subscribe for scholarship alert.
Be among the first to know whenever new Duke University's Fuqua School of Business scholarship is going on. Enter your email address and click the Subscribe button ↓
PhD Program in Business Administration
Aim and Benefits of PhD Program in Business Administration
Your admission to the PhD program will include stipends, tuition and registration, and health fees for up to ten semesters, provided you are making satisfactory progress in the program. Other forms of financial assistance include:
Desktop computer
Support for approved academic travel
Assistance in seeking funding from the Graduate School and outside sources
PhD Program in Business Administration Courses
Requirements for PhD Program in Business Administration Qualification
The PhD in Business Administration is a degree of the Graduate School of Duke University and follows the degree requirements set by Duke's Graduate School. In general, the PhD program requires an average of 5 years to complete. After you and a faculty member in your academic area determine your specific study program, according to your interests and goals, you'll be required to:
Gain expertise in your area of special interest through your coursework and independent study
Complete a preliminary qualifiying exam in this area of study by the third year of residence, or earlier
Defend your dissertation successfully
Checkout:
Scholarships for African students 2021/2022
Application Deadline
December 15, 2023
How to Apply
f you have any questions about Fuqua's PhD programs, please contact our PhD Program Office +1 919.660.7862 or by email. Applications for the PhD program can be found online on the Duke Graduate School website. The application deadline is December 15.
Admission is based on both merit and on a competitive basis. On average, each academic area matriculates 2-3 students each year. The acceptance rate ranges between 2% and 8% across the areas
For more details, visit Duke University's Fuqua School of Business website.